Project Documents
Select a document below to view and download. Please revisit this page as the proposal progresses for updates.
Documents
---
2021
---
---
2020
---
---
2017
---
---
2016
---
---
2015
---
---
2010
---
---
2008
---
---
2006
---
---
2005
---
---
2004
---
M1 Pacific Motorway extension to Raymond Terrace information session
The EIS is on public exhibition from Wednesday 28 July until midnight on Tuesday 24 August.
The EIS exhibition and submissions process is handled by the Department of Planning, Infrastructure and Environment (DPIE).
To learn about how to make a submission, please click here.
Please click here to make a formal submission.
If you have any feedback in regards to the EIS submissions process, please contact DPIE on majorprojectssupport@planning.nsw.gov.au.
Information sessions and booths
Sydney Gateway is inviting feedback on its concept design. Our team will be in Tempe, Mascot and Wolli Creek from Monday 27 May to Friday 21 June.
Come and meet the team and learn more about the project.
---
Information sessions:
---
Information booths:
We welcome your feedback throughout all stages of the planning process of Sydney Gateway and look forward to your thoughts on the concept design.
Community Consultation
We will be in the community, to understand the needs of local residents and businesses.
Community Consultation
We will be in the community, to understand the needs of local residents and businesses.
What is an REF?
The REF describes the key features of the M1 to Raymond Terrace project and assesses the potential environmental and social impacts during construction and operation.
The REF document also makes recommendations on measures to manage and minimise potential impacts from the project.
The REF covers topics such as noise, vibration, traffic, air quality, flooding, Aboriginal and non-Aboriginal heritage, and socio-economic, agricultural property and biodiversity impacts.
The REF display is an opportunity for the community to make comment on the environmental impacts and mitigations for the proposed upgrade.
Explore interactive map
Use the interactive map to learn more about the project
Make a submission
You can make a submission on the EIS to the Department of Planning, Industry and Environment (DPIE) either online or by posting a letter.
To make a submission online, create a user account on DPIE's Major Projects website. To create a user account click the 'Sign In' icon in the top right of the homepage or under the 'Services' tab and then click the 'Have Your Say' link.
When you are logged in, find the project you want to have your say on, and click the 'Make a Submission' icon. 
Anyone can make a submission about the project within the exhibition period, which runs from XXXXX.
Before making your submission, please read DPIE's Privacy Statement or telephone 1300 305 695 for a copy. DPIE will publish your submission on its website in accordance with its Privacy Statement.
If you cannot lodge your submission online, you can write to:
Attention: Director - Transport Assessments
Planning and Assessment
Department of Planning, Industry and Environment
GPO Box 39
SYDNEY NSW 2001
---
If you want DPIE to delete your personal information before publication, please make this clear at the top of your letter. If you post or hand deliver your submission, it needs to be received by DPIE before the close of the exhibition period and include the following:
Your name and address (at the top of the letter only)
The name of the application and the application number (M1 to Raymond Terrace project; SSI_7666)
A statement on whether you support or object to the proposal
The reasons why you support or object to the proposal
A declaration of any reportable political donations made in the previous two years.
To find out what is reportable, and for a disclosure form, visit the Donations and Gift Disclosure page or telephone 1300 305 695 for a copy. Note the disclosure requirements apply however a submission is made.
For more information on making a submission about this project, please call DPIE on 1300 305 695.
---
Helpful links
Project status
We are planning to finalise and publicly display the EIS for the M1 Extension to Raymond Terrace project in 2021.
Timing for construction is not confirmed and is subject to approval and funding availability.
We will keep the community and key stakeholders informed as the project progresses.

Earthworks cut at Black Hill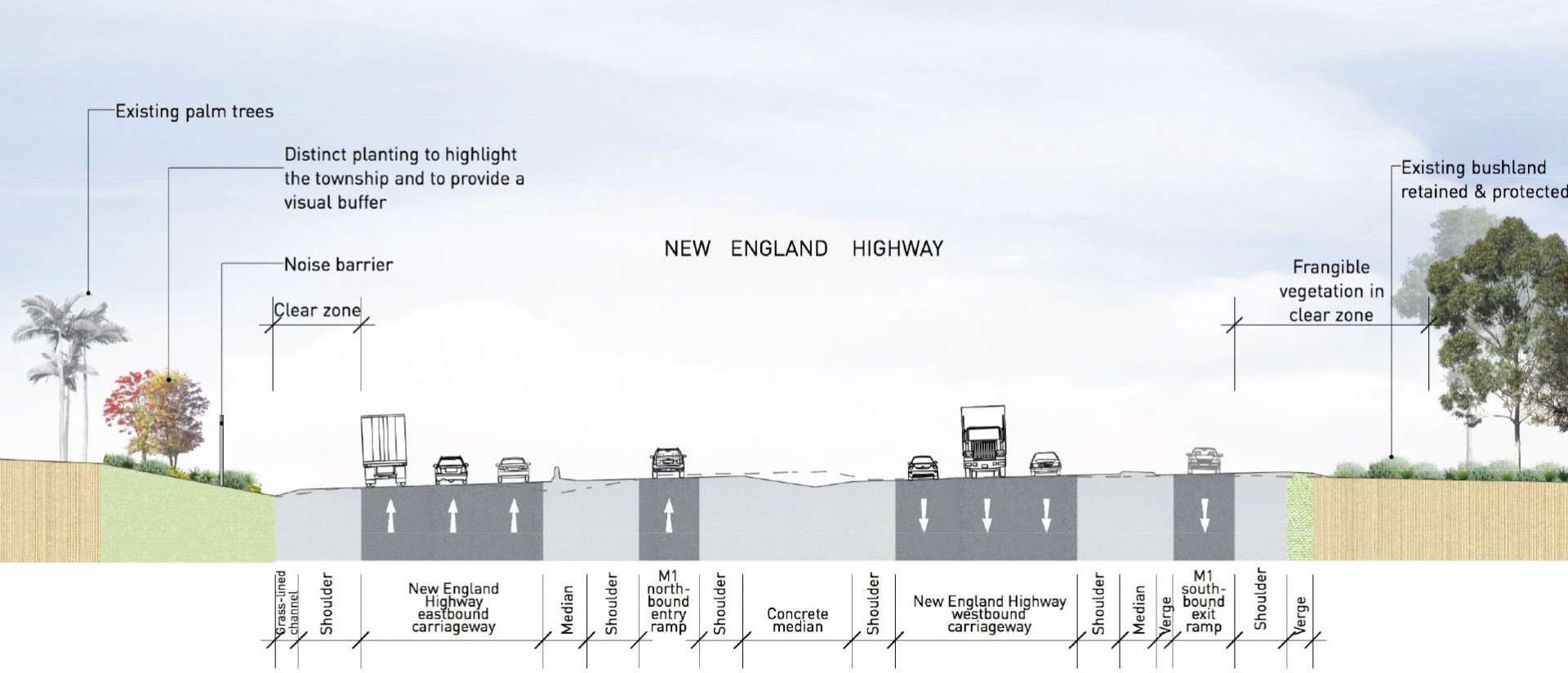 New England Highway at Tarro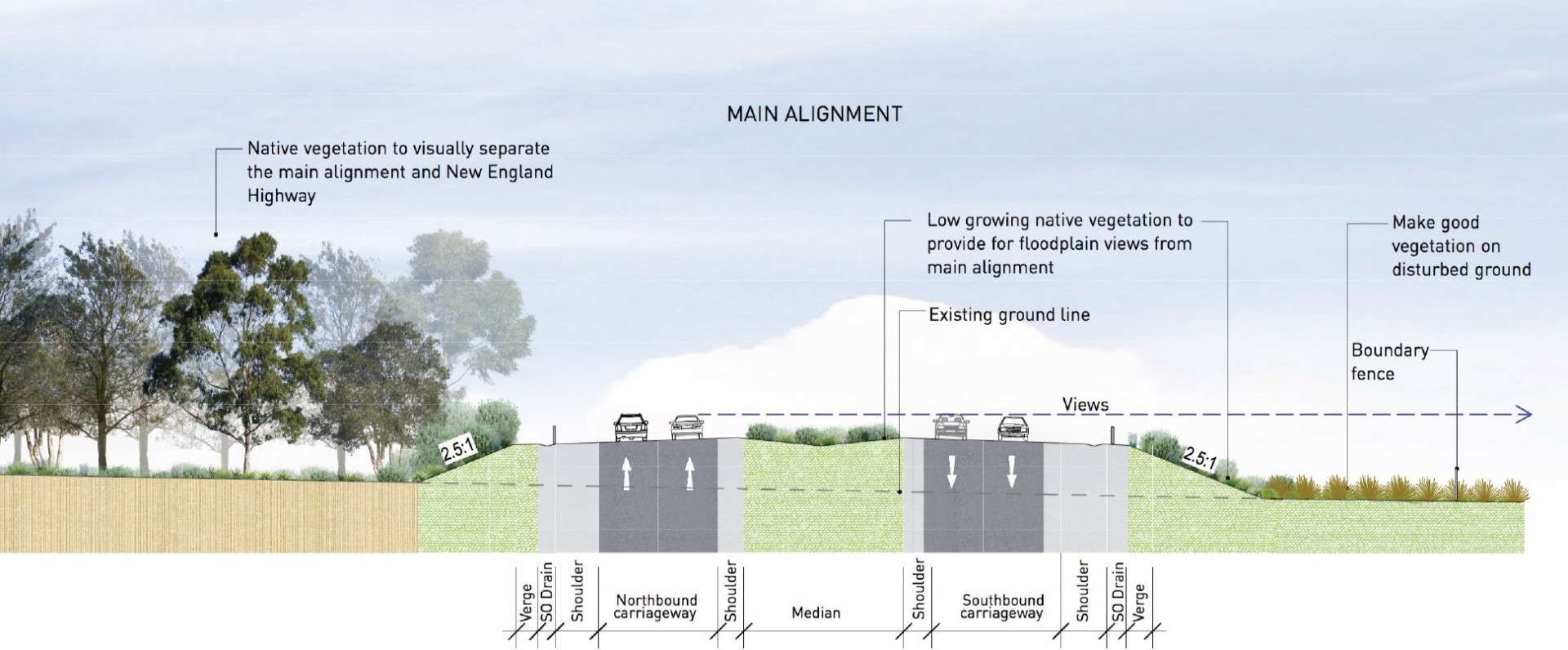 Earthworks fill at Tarro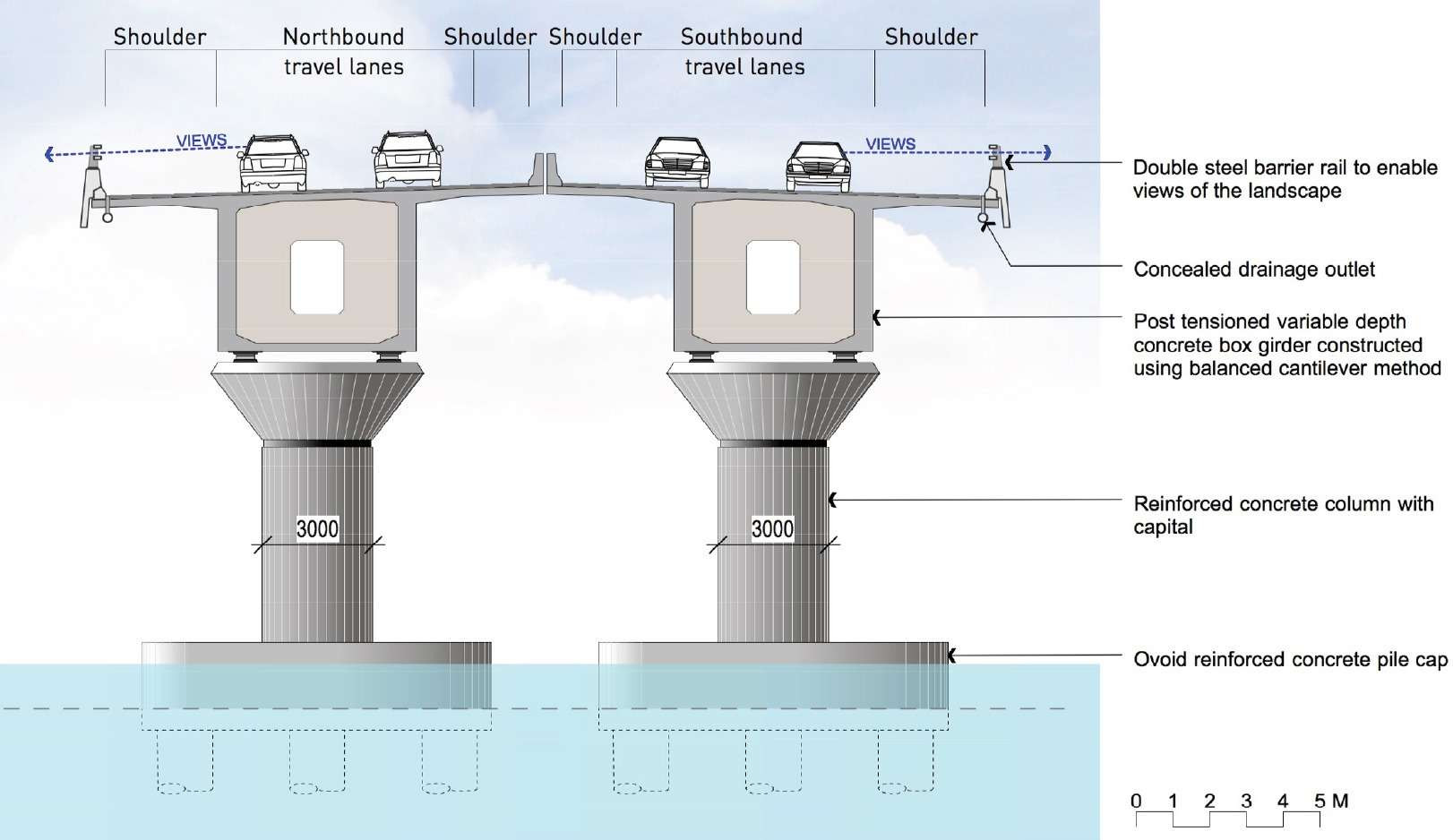 Twin Bridges over the Hunter River

Tomago Interchange

Main alignment and realigned Pacific Highway at Heatherbrae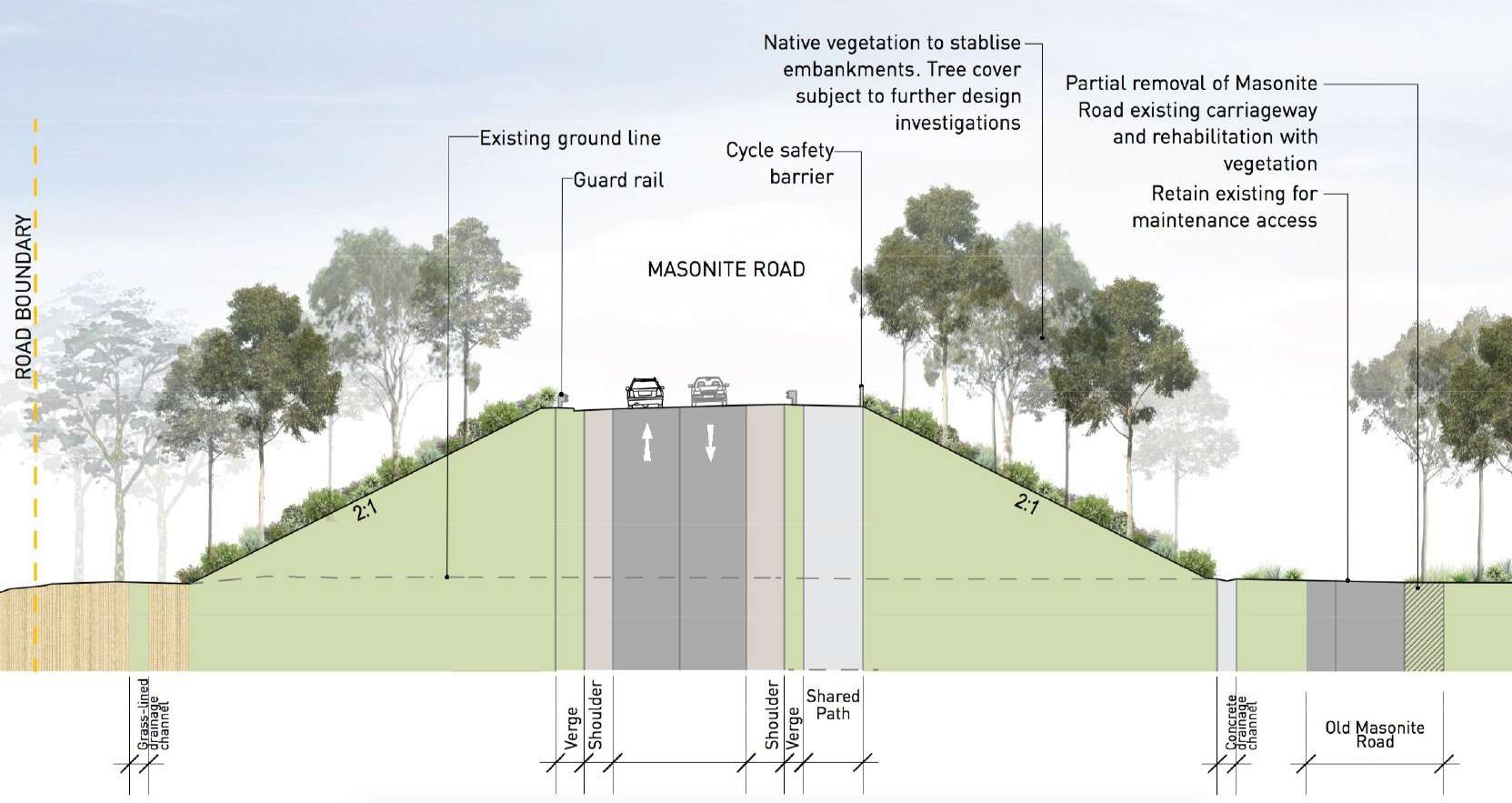 Masonite Road at Heatherbrae
Tomago Interchange – 2016/2020 design changes
Drag the slider from the left to right to compare the existing road layout to the designed road layout.
Tarro interchange design improvements from 2016 to 2020
Tomago interchange design improvements from 2016 to 2020
Hunter region improvements from 2016 to 2020
Before/After: Tomago interchange
Before/After: Tarro interchange
Before/After: Botanic Gardens Access
Before/After: Raymond Terrace
Before/After: Masonite road overpass
Before/After: West facing view to from New England Highway towards M1 Motorway viaduct
Before/After Old Punt Road
Aboriginal Heritage
The project has sought to firstly avoid and then minimise impacts to Aboriginal heritage within and next to the construction footprint. During construction partial and whole impacts to Aboriginal sites are expected within the construction footprint.
Consultation
A total of five Aboriginal Focus Group meetings were held for the project.
Additionally, a cultural values assessment was carried out which included consultation with knowledge holders. The information that was provided contributed to an understanding of the cultural values of the broader landscape within which the project is located.
Investigations
Archaeological assessment for the project included desktop assessment, field survey, test excavation and assessment of significance.
A total of 446 test pits were excavated in 15 locations within the study area. In total, 3,026 stone artefacts were recovered during the test excavation program and later analysed.
Impacts
A total of 26 archaeological sites and potential archaeological deposits have been identified within the study area and directly impacted by the project.
These impacts would be managed through various management measures such as salvage excavation, artefact collection and detailed analysis.
An Aboriginal Cultural Heritage Management Plan would be prepared in consultation with Registered Aboriginal Parties, and include procedures for carrying out artefact salvage and protection measures to be applied during construction.
Filter the EIS
Select the topics you are interested in reading about
Traffic/transport
Environment
Water/Flooding
Health and safety
Noise/Vibration
Land use
Social impacts
Urban design and visual amenity
Heritage
Waste management
Related chapters
Select from topics of interest above