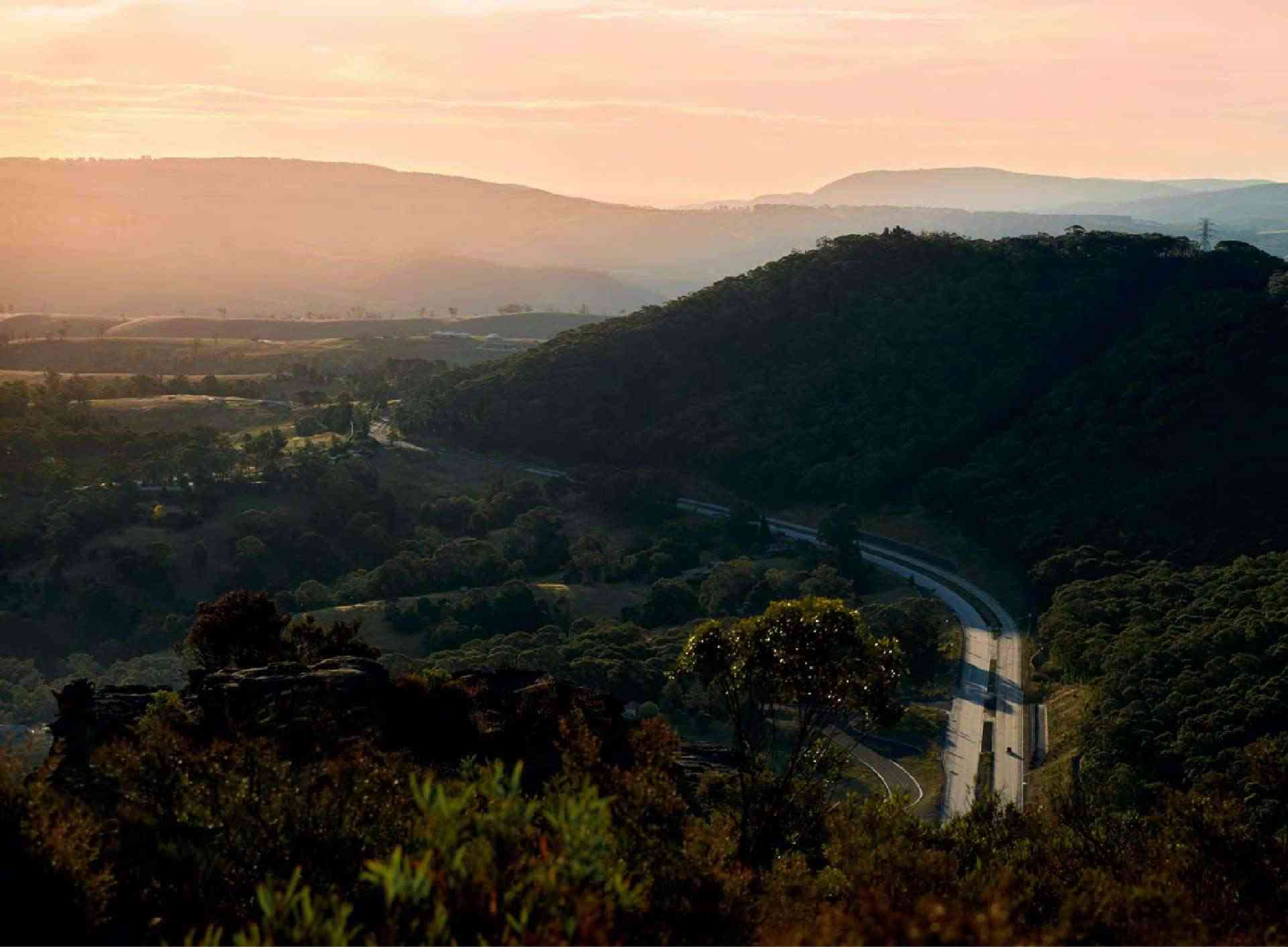 Key focus areas
Improve environmental outcomes
Transport is committed to enhancing resource efficiency and reducing the environmental impacts of projects and operations on energy, water and effluent, noise, vibration and air quality, waste and suppliers.
Our goals
Develop a circular economy for Transport by designing waste and pollution out and keeping products and materials in use
Reduce environmental impacts of projects and operations
Why it's important
Using sustainable material lowers the carbon footprint of materials and fosters markets for recycling materials, while reducing our reliance on precious drinking water reserves and safeguarding waterways from pollution will ensure the ongoing health of flora, fauna and communities.
Balancing all environmental factors ensures we are holistically considering our projects and the communities they impact to deliver the most beneficial outcomes and protect the wellbeing of surrounding environments and communities.
Understanding impacts and outcomes
Transport projects are pivotal to supporting the growth of NSW. However, the construction, operation and maintenance of infrastructure – including the noise it creates – can have significant impacts on the surrounding land, water and air.
We're committed to minimising impacts to air quality, noise and vibration; diverting waste from landfill; protecting, recycling and recovering valuable materials; and preserving drinking water supplies by using less and supplementing this resource with alternative sources.
Our challenges
There are competing environmental and sustainability priorities to manage during a project's lifecycle across the planning, development, construction and maintenance phases. These include:
Developing standards that allow for the approval and integration of more sustainable materials in design, while adhering to engineering and design life requirements.
Selecting environmental improvement measures while managing biodiversity impacts.
Managing ongoing operational impacts, such as noise, dust and other air emissions.
Understanding our impact through reliable data and aligned performance management and reporting systems is key. However, data is often reported differently which can make it challenging to reconcile and analyse.
Our achievements
Explore our case studies
Hover a hotspot to preview; click to view detailed case study
Taking action
Frameworks, policies and procedures
We use our Environment and Sustainability Management Framework and additional guides to assist us, our contractors and industry partners in meeting legal requirements, internal commitments and stakeholder expectations and preparing impact assessments for proposals.
We partner and invest in research projects and trials that utlise recycled materials such as crushed glass and waste plastics in asphalt and concrete for road and rail projects. We also recycle our concrete pavement. Environmental incidents are reported, causes determined and corrective actions implemented. We analyse trends, improve procedures and provide training and information to prevent incidents.
We are reviewing data management and reporting mechanisms to establish a single source of documents and tools.
Noise
We aim to minimise our noise impacts throughought our projects, and assess each against the relevant NSW Environment Protection Authority construction — operational noise guidelines. We conduct noise modelling to minimise impacts and implement mitigation measures such as temporary or permanent noise walls and architectural treatments.
Water
We are replacing the use of potable water with non-potable water sources on our projects to protect valuable drinking water, capturing rainwater in tanks and sediment basins onsite. We also install water treatment plants during operations where feasible.
Waste
We use circular economy principles and follow the NSW Waste and Sustainable Materials Strategy 2041 to guide our waste management approach. We meet the NSW Government's targeted recycling rates for road construction and demolition waste, recycling more than 95 per cent of materials such as concrete, asphalt and virgin excavated natural materials created during construction, maintenance or demolition.
We invest in and partner for research and trials of recycled materials, such as crushed glass and waste plastics, use in asphalt and concrete for road and rail projects. We also recycle our concrete pavement.
Our performance
Environmental inspections
Transport undertakes environmental inspections on construction and maintenance sites, as well as on operational premises. This provides a lead indicator for the early identification of environmental risks, helps prevent environmental incidents and breaches of requirements, and allows us to assess and improve our performance.
Environmental Inspections Data FY2020-21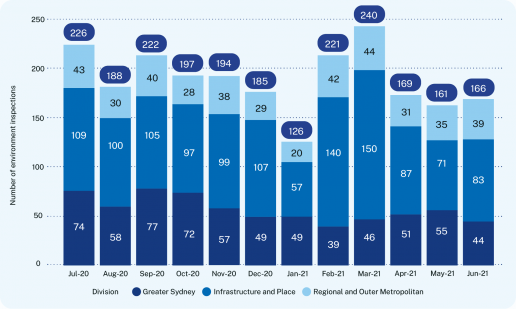 View raw data

Number of environment inspections

Greater Sydney

Infrastructure and place

Regional and outer metropolitan

Monthly total

July 2020

74

109

43

226

August 2020

58

100

30

188

September 2020

77

105

40

222

October 2020

72

97

28

197

November 2020

57

99

38

194

December 2020

49

107

29

185

January 2021

49

57

20

126

February 2021

39

140

42

221

March 2021

46

150

44

240

April 2021

51

87

31

169

May 2021

55

71

35

161

June 2021

44

83

39

166

Total

671

1205

419

2295
---
Measuring sustainability performance
We embed sustainability and performance across our major projects through applying Transport's Sustainable Design Guidelines (SDGs) or the Infrastructure Sustainability Council (IS Council) Infrastructure Sustainability (IS) Rating Scheme. The Scheme provides external, third-party validation to benchmark sustainability performance across the design, construction and operation phases of our assets. It enables us to report asset performance in a common language and provides a mechanism for consistent application across all modes of transport. Transport currently has 84 projects registered and in progress across the different IS Ratings types – Program, Design, As Built and Operations. Six are yet to have their rating pathway determined and are in progress.
The Green Building Council of Australia's Green Star rating scheme is used to validate the sustainable performance of the underground stations on the Sydney Metro City and Southwest project.
84
registered projects/programs
View raw data

Transport's Infrastructure Sustainability Council (ISC) registered, in progress and future projects FY21. Based on available data sourced from ISC.

IS Rating Type

Project/program

Program

Design

As Built

Operations

Albion Park Rail Bypass

-

-

1

-

Beaches Link

IS Rating pathway pending

CBD and SE Light Rail

-

1

1

1

Coffs Harbour Bypass

IS Rating pathway pending

Commuter Car Parks Program

-

1

1

-

M6

IS Rating pathway pending

M12 Motorway - Central

-

1

1

-

M12 Motorway - West

-

1

1

-

M12 Motorway - East (Elizabeth Drive Connections)

-

1

1

-

M12 Motorway Program Rating

-

1

1

-

More Trains More Services (MTMS) - Stage 2

-

2

2

-

More Trains More Services (MTMS) - Stage 3A

IS Rating pathwaypending

Newcastle Inner City Bypass: Rankin Park to Jesmond

-

-

1

-

New Intercity Fleet

-

1

1

1

Northern Road Upgrade - Stage 4

-

-

1

-

Northern Road Upgrade - Stage 5

-

-

1

-

Northern Road Upgrade - Stage 6

-

-

1

-

Parramatta Light Rail (PLR)

1

-

2

3

1

Regional Rail Program

-

1

1

1

Sydney Gateway

-

1

1

-

Sydney Metro City &South West

1

5

5

-

Sydney Roads Asset Performance

-

-

-

3

Transport Access Program (TAP) 3

1

14

14

Warringah Freeway Upgrade

IS Rating pathway pending

WestConnex Stage 3A - M4-M5 Link

-

1

1

-

WestConnex Stage 3B

-

1

1

-

Western Harbour Tunnel

IS Rating pathway pending

Registered: 84
Pathway pending: 6

3

34

40

7
---
Waste and resource recovery
The construction and maintenance of roads involves the management of millions of tonnes of excavated spoil, road building materials and wastes. The table below shows that through our resource management activities, Transport is already achieving the NSW Government's targeted recycling rates of 80 per cent waste diverted from landfill in our regional road maintenance. We beneficially reuse and recycle more than 95 per cent of materials such as concrete, asphalt, virgin excavated natural materials (VENM) and excavated public road materials (EPRM) generated during road construction, maintenance or demolition.
Regional Maintenance and Delivery Waste Data FY2020-21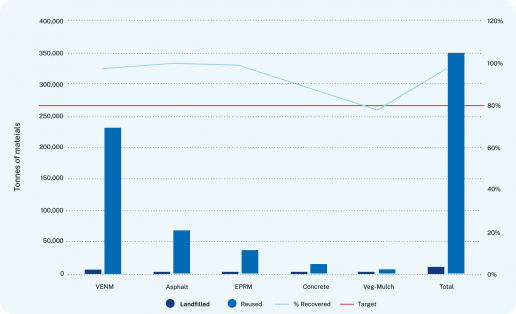 *Sydney Metro data not included
View raw data

Material

Landfilled (tonnes)

Reused (tonnes)

Total (tonnes)

% Recovered

VENM

5086.55

231,128.88

236,215.43

98%

Asphalt

487.60

67,079.57

67,567.17

99%

EPRM

496.92

36,136.03

36,632.95

99%

Concrete

1605.60

12,357.83

13,963.43

89%

Vegetation/

Mulch

1290.20

4125.86

5416.06

76%

Total

8966.87

350,828.17

359,795.03

98%
Keep learning how we're actioning change