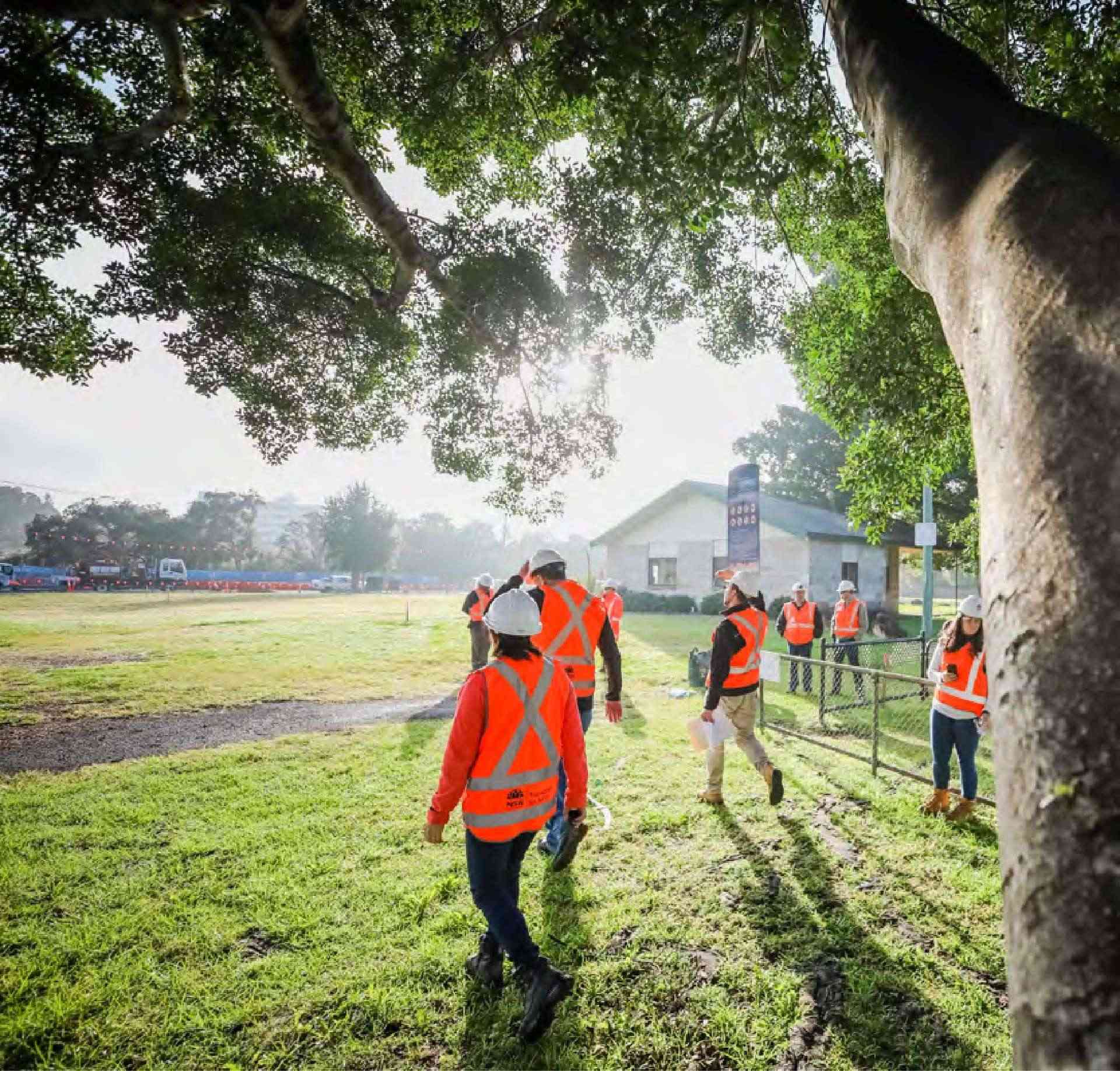 Key focus areas
Procure responsibly
Transport is committed to developing and implementing social procurement and workforce development strategies and initiatives that work to enhance skills, diversity and industry capability, and integrate environmental considerations into procurement decision-making.
Our goals
All suppliers meet the standards in the Transport Supplier Sustainability Charter
Social and environmental outcomes included in all procurement decisions
Why it's important
Our significant procurement spend and ability to set requirements for goods and services increases supply chain sustainability and innovation, boosts workforce skills and participation of disadvantaged and diverse communities and businesses,and achieves value for money for our assets.
We also have a responsibility to manage human rights, modern slavery, environmental or other social risks in our supply chain.
Procuring to protect investment
Transport spends billions of dollars each year across our network of operations and projects.
We're setting supplier and procurement standards and targets to ensure we're creating economic, social and environmental benefits for NSW through our spending on our goods, services and our workforce.
Our challenges
Our supply chains are multi-tiered and fragmented, with our contractors often engaging multiple subcontractors. This creates challenges in managing contractual obligations, data collection, reporting and measuring direct spend and impact.
Transport uses tonnes of materials in our projects, including cement and steel, which are large emitters of greenhouse gases.
The pandemic has also caused challenges for delivering skills development and training and for disadvantaged groups to access opportunities like practical work experience.
We have established social procurement targets within our contracts, but availability and capabilities can be limited. There are currently unprecedented skills shortages in infrastructure and construction, worsened by skilled labour shortages due to reduced migration during COVID-19.
Our achievements
Explore our case studies
Hover a hotspot to preview; click to view detailed case study
Taking action
We're committed to weighing the benefits and risks of investments to ensure we're spending public money efficiently and boosting economic prosperity and social inclusion in an environmentally-sustainable and ethical way.
We are diversifying our supplier base to include minority supplier groups
We are working with our suppliers to encourage a shift in the market to low carbon and sustainable materials.
We are focused on providing opportunities for employment and business growth and building skills within disadvantaged and diverse communities. Our contract requirements include social procurement targets to drive employment of Aboriginal people and disadvantaged people. They also encourage engagement of small to medium enterprises, Aboriginal-owned, regional and disability enterprises.
We have strategies for improving workforce skills and capabilities to support local and regional economies which address skills shortages, and provide education, work experience, apprenticeships and traineeships to young people.
We are adapting our procurement process to engage effectively with suppliers and identify modern slavery and human rights risks in our supply chain.
Our performance
Procurement targets
Procurement targets were implemented from January 2021 under the new Aboriginal Procurement Policy. These included directing one per cent of the total addressable spend as well as three per cent of total goods and services contracts to Aboriginal businesses.
By June 2021, Transport achieved expenditure of $19.5 million with Aboriginal business against our addressable spend target of $23.3 million. Transport also established 48 goods and services contracts with Aboriginal businesses, exceeding our engagement target of 36 businesses for this period. While we did not meet our addressable spend target during this period, Transport's annual Aboriginal Participation Strategy is being developed to address these shortfalls.
Minimum requirements
As part of the Aboriginal Procurement Policy, we must include minimum requirements for 1.5% Aboriginal participation in all contracts valued at $7.5 million or above by requiring one, or a combination, of the following:
At least 1.5% of the contract value to be subcontracted to Aboriginal businesses
At least 1.5% of the contract's Australian based workforce (FTE) that directly contribute to the contract to be Aboriginal or Torres Strait Islander peoples
At least 1.5% of the contract value to be applied to the cost of education, training or capability building for Aboriginal staff or businesses directly contributing to the contract.
2020-21 Aboriginal participation spend
The total value of Transport contracts in 2020-21 was $10,622,488,736. The table below indicates the Aboriginal participation spend within the contracts that were underway during the financial year. Many contracts are still in progress, including some that were only awarded late in 2020-21. The APP target of achieving a minimum of 1.5 per cent Aboriginal participation in all contracts valued at $7.5 million or above relates to the total expenditure on Aboriginal participation at the completion of each contract. Therefore, for contracts that are still in progress, it is expected that the current APP expenditure will be less than the APP target. Historically, only a small proportion of contracts have failed to reach their APP target and, in many cases, the target amounts have been far exceeded.
| Spend category | $ Actual | % Actual spend |
| --- | --- | --- |
| Aboriginal participation total | $138,065,484 | 1.30% |
| Aboriginal employment | $78,240,526 | 0.74% |
| Aboriginal owned businesses | $46,724,694 | 0.44% |
| Engagement, education and training | $9,847,362 | 0.09% |
Keep learning how we're actioning change