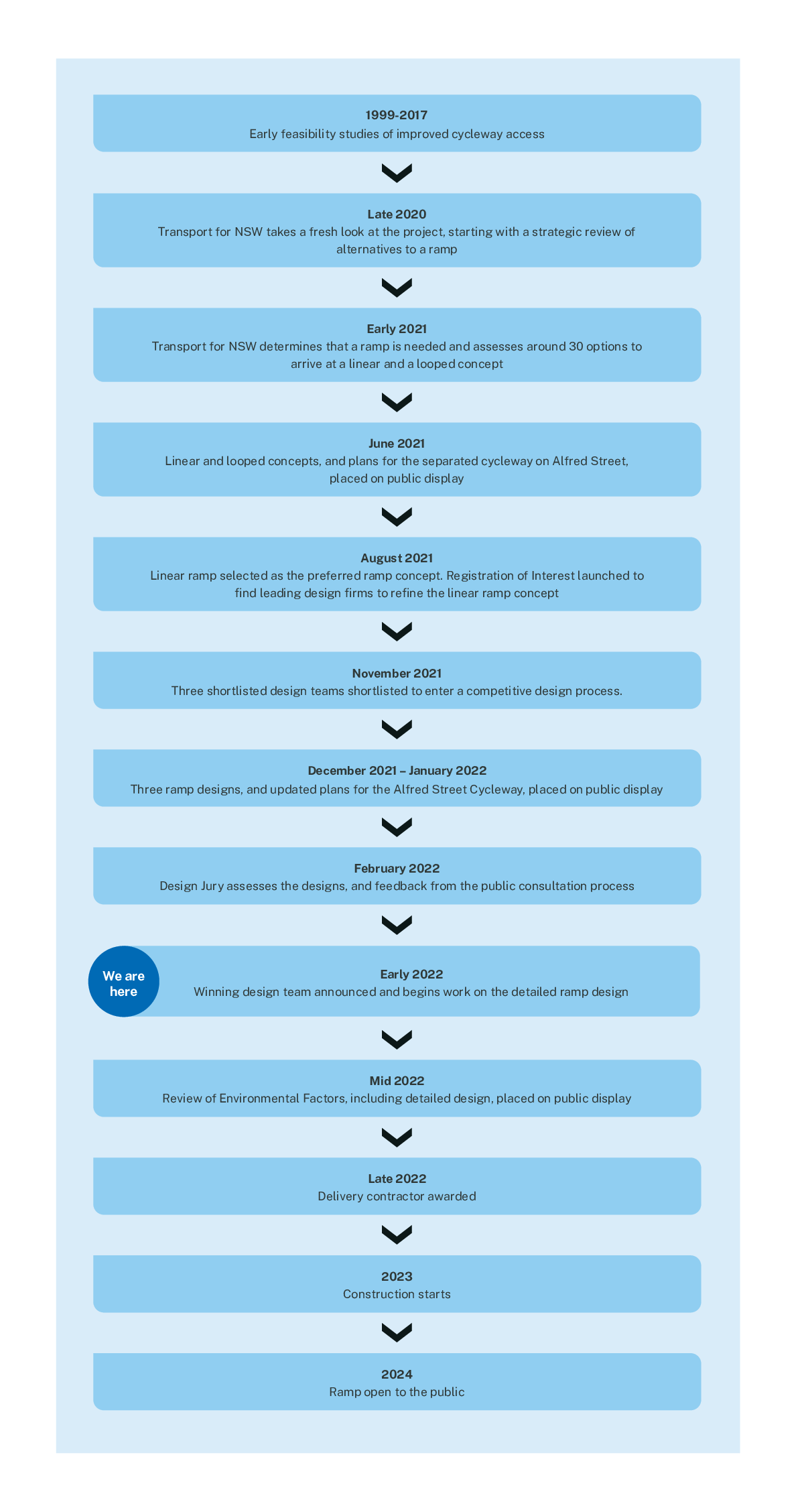 Project overview
In August 2021, the Minister for Transport announced that a linear bike ramp had been selected as the preferred concept to improve bike access at the northern end of the Sydney Harbour Bridge Cycleway.
This followed public consultation during June 2021 on two ramp concepts: a linear ramp extending north above Milsons Point Station forecourt, and a loop over the southern bowling green at Bradfield Park Central.
Consultation activities reached more than 6,300 people, with 2,759 people responding to a survey or providing a submission.
What we heard
Feedback showed the linear ramp has strong public support. Our survey received 2,578 responses of which, 82.9 per cent supported the project, and 68.3 per cent preferred the linear option.
Supporters believe this project is vitally needed to encourage more people to take up cycling. However, some remain concerned about impacts of a ramp on the Sydney Harbour Bridge heritage and public open space.
Feedback was also sought on early plans for a separated, bi-directional cycleway along Alfred Street. Our survey showed most people support these plans though some asked about how the cycleway would affect traffic, parking and the roundabout at Lavender Street.
What we've done
In August we launched a competitive design process to find a leading design team of the highest calibre to refine the linear concept and create a ramp that can be truly valued and celebrated. Each team comprises Aboriginal and European heritage experts, as well as urban and landscape designers. The three shortlisted designs are displayed here for your feedback.
We have also developed the Alfred Street cycleway plans further, taking into account the feedback we received in June. We're keen to hear what you think.
The competitive design process
We understand that this is a highly significant location and is valued by visitors and the local community. For that reason, we issued a public Registration of Interest in August to find leading design firms with Aboriginal design expertise capable of developing a concept befitting this nationally and internationally significant location.
We received 18 responses to the ROI. These were assessed with advice from the Government Architect's Office and Heritage NSW. We shortlisted three teams and asked them to enter a 4-week competitive design process.
Before they got underway, the teams were briefed by representatives from North Sydney Council, Heritage NSW, and by Aboriginal knowledge holders, who outlined their expectations and aspirations for the design process.
The three designs, and community feedback, will be presented to a Design Jury in February 2022. The Jury's deliberations will guide the selection of a winning design which we hope to announce in early 2022.
Project Timeline