About the EIS
The Warragamba Dam Raising Environmental Impact Statement is on public exhibition from the 29th of September to the 19th of December 2021. This display is an opportunity for the community to make comment on the environmental assessments for the proposed project.

The purpose of the EIS is to assess the economic, environmental and social impacts of the project and to help the community, government agencies and the approval authority make informed submissions or decisions on the merits of the project.
Environmental Assessment (EIS) Timeline
For information relating to the planning application and the exhibition of the EIS, including the notice of exhibition, full text of the EIS including appendices, the Planning Secretary's environmental assessment requirements and the SSI application, and how to have your say on the application, please visit the NSW Planning Portal.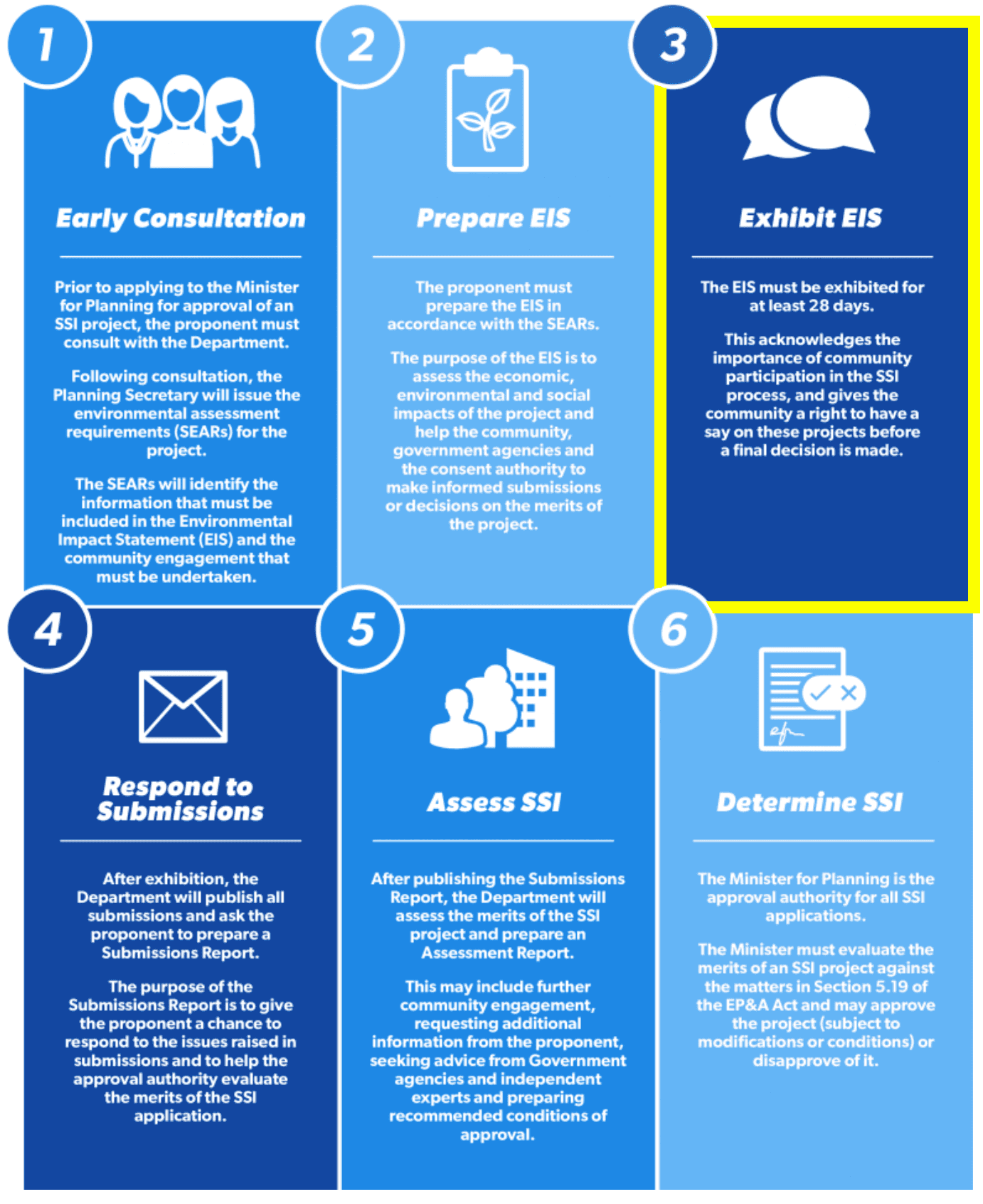 Webinars
---
These virtual sessions are held during public exhibition to provide the community and stakeholders with the opportunity to ask questions about the project's Environmental Impact Statement. Register your interest in attending a webinar here.
| Webinar | Date and Time (all times in AEDT) |
| --- | --- |
| Webinar #1 (Registration Closed) | Tuesday 12th October 2021 - 12:00-1:30pm |
| Webinar #2 (Registration Closed) | Thursday 14th October 2021 - 6:00-7:30pm |
| Webinar #3 (Registration Closed) | Wednesday 20th October 2021 - 6:00-7:30pm |
| Webinar #4 (Registration Closed) | Wednesday 27th October 2021 - 12:00-1:30pm |
| Webinar #5 (Registration Closed) | Thursday 28th October 2021 - 6:00-7:30pm |
| Webinar #6 (Registration Closed) | Tuesday 2nd November 2021 - 10:00-11:30am |
| Webinar #7 (Registration Closed) | Wednesday 3rd November 2021 - 2:00-3:30pm |
| Webinar #8 (Registration Closed) | Thursday 18th November 2021 – 12:00-1:30pm |
| Webinar #9 | Thursday 9th December 2021 – 12:00-1:30pm |
Focus Topic Videos
---