We recognise a project of this scale will have an unavoidable impact on local communities. This is why we completed one of the most extensive engagement programs for a motorway project both ahead of and during the EIS exhibition period.
Since 2017, starting with the release of the preferred route and concept design, we engaged with thousands of you who live and work in and around our project area. We have listened to better understand your concerns and have incorporated your feedback and suggestions into our design where possible.
In 2018, we carried out a wide range of consultation and engagement activities to help refine our design based on community feedback and we aimed to reduce community impact where possible.
In 2020, during the Environmental Impact Statement (EIS) exhibition period, we carried out a wide range of consultation and engagement activities. During this time we received your submissions and have prepared a submissions report to respond to your valued comments and concerns. The submissions report is available here.
Our engagement program for the Western Harbour Tunnel and Warringah Freeway Upgrade project has also included the companion project, Beaches Link, for which we prepared a separate EIS. This assessed the construction and operational impacts of the Beaches Link project.The EIS was on public exhibition in December 2020.
Our commitment to you is that we will continue to listen and actively engage with you to hear your feedback on these city-shaping projects.
What you told us
2018 Proposed Reference design
Your feedback on the Western Harbour Tunnel and Beaches Link Proposed Reference design 2018 focused on the following topics: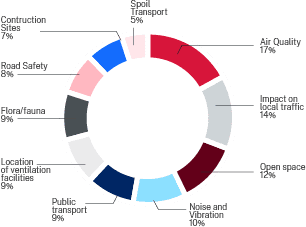 2020 Environmental Impact Statement exhibition
Each submission has been examined individually to understand the concerns raised. Where similar issues have been raised in different submissions, only one response has been provided. Key environmental issues raised: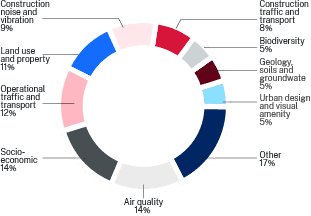 How we have addressed your feedback
We carried out extensive consultation during 2017 and 2018. During this time your feedback has been critical to helping us refine the design and make a number of positive changes to the project, which was presented in the EIS. These changes are outlined below.
Changes in North Sydney
Minimising the construction footprint in St Leonards Park and Anzac Park
Re-locating the ventilation facility to within the Warringah Freeway corridor from its original position
Improving active transport connections by including a dedicated cycleway between Miller Street, Cammeray Park and Falcon Street and improving connections over the Warringah Freeway
Maintaining the connection between the Warringah Freeway and Ernest Street by keeping the Ernest Street ramps
Minimising the impact of our work at the Ridge Street North construction site
Reducing the land we need to use at the Cammeray Golf Course
Retaining more trees and plantings along the northern boundary of the Cammeray Golf Course.
Changes in the Inner West
Working with the original landscape architect, Bruce McKenzie, for Yurulbin Park to develop the original vision for this park
Avoiding impacts to Birchgrove Oval
No spoil transport through Balmain or Birchgrove
Using water transport by barge where possible
Co-locating the ventilation facility at Rozelle Interchange.
Because of this early consultation and your previous feedback, no major changes to the project's design are proposed as a result of the submissions received.
However, your feedback has been used to further refine the project, key activities and mitigation measures. For more information, please read the submissions report, available here.
Managing community concerns
We know building a road of this scale and significance does not go without impact.
We will have a community contact system in place during construction and will ensure there are a number of different ways you can contact us and raise concerns or make enquiries at any time.
We will also be working closely with teams from nearby construction projects to help minimise the construction and consultation fatigue in your local area.
Planning process and future engagement
We are pleased to announce the Western Harbour Tunnel and Warringah Freeway Upgrade has been approved by the Minister for Planning and Public Spaces. 
The project will be constructed and operated in accordance with the Ministers Conditions of Approval. A copy of these conditions can be found on the Department of Planning, Industry and Environment's (DPIE) website.
We would like to sincerely thank the local community, businesses and industry who have taken the time to meet with us and to share their views on this city shaping project. Your feedback has been valuable in helping us understand what is important to you, and in delivering positive changes to the design.   
We welcome your comments and questions at any time. Please contact us via 1800 931 189 or whtbl@transport.nsw.gov.au if you would like to ask a question or subscribe to ongoing email updates about the project.